RZ -breeding success for health made in Germany
For the first time, German breeding organizations for the Holstein and Red Holstein cattle bring into use direct genomic health breeding values. According to these new relative genomic breeding values sires can be pointed out that inherit their resilience to their offspring. Animal health within the herd can be improved rapidly, effectively and accurately without missing performance.
The official breeding values for direct health traits for the Holstein breed will be published from now on, divided into five categories:
Overall, 13 different traits are implemented in these new breeding value indices. This was made possible due to several large-scale projects for genomic typing and collection of health data by farms in Germany. In accordance to that, collected data are optimally adapted to a wide variety of climates and farm structures.
The genomic breeding values are estimated with a reliability between 50 % and 60 % what is particularly high for health traits, showing the excellent quality of data and German breeding value estimation.
New from August 2019 RZcalfhealth for sustainable improvement of calf vitality and reduction of calf losses.
---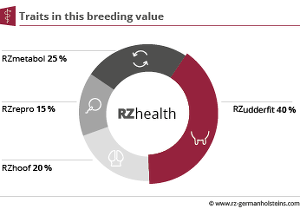 The breeding value RZhealth as an overall-index combines all four trait complex breeding values RZudderfit, RZhoof, RZrepro and RZmetabol. According to their economical importance they are weighted as followed:
RZudderfit 40 %
RZmetabol 25 %
RZhoof 20 %
RZrepro 15 %
By using the RZhealth index for selection breeding all 13 health traits that are part of the four relative breeding values can be improved simultaneously. Only one breeding index covers the diseases with the greatest impact. This is an important part of health prevention within herds. The reliability of 57 % proves the safety of this new genomic breeding value. The RZhealth provides excellent decision support for selection breeding and optimizes the health status of the entire herd. Are there any specific health problems in the herd, RZudderfit, RZhoof, RZmetabol and RZrepro can help choosing the appropriate bull for breeding.
---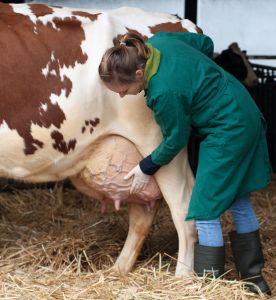 Mastitis is the disease with the greatest economical impact. A reduction of the mastitis rate brings financial and animal welfare benefits.
Mastitis still is the disease with the greatest economical impact. A clinical infection of mastitis during early lactation may cost up to 400 € to 600 € per animal for treatment and loss of milk revenue. Subclinical mastitis (diagnosed by increased somatic cells) costs up to 200 € per animal. Using the new genomic breeding value RZudderfit, the incidence of mastitis can now easily be reduced. The worldwide unique combination of health data representing early and late diseases and culling reasons shows exceptional positive effects: the reliability is 61 %! Focusing of RZudderfit during selection decisions the incidence of mastitis within herds can be decreased accurately and rapidly.